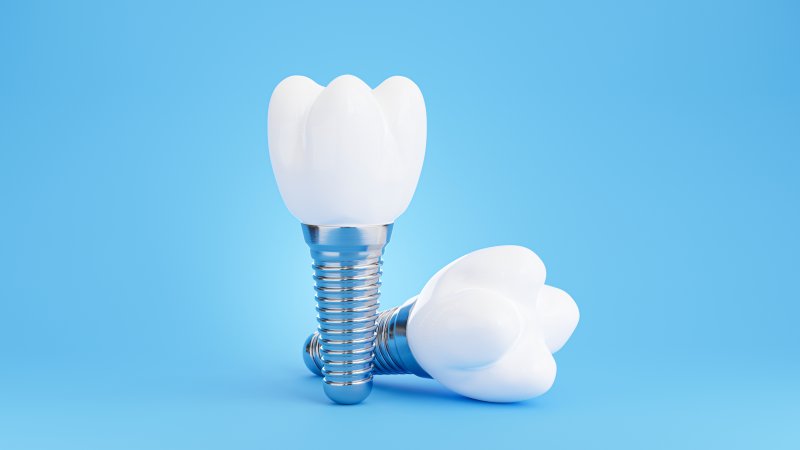 Once you have dental implants, you may think the hard part is done. The procedure is over now, so you can enjoy your shiny porcelain layers for years to come! Not so fast, though; it turns out that implants can stain if you're not careful. That being the case, you'll need to follow good practices and habits to get the most out of them.
Fortunately, your local dental practice can help you do that. Here's a summary of why implants stain and tips for avoiding their discoloration.
Can Implants Get Stained?
True enough, dental implants are made of stain-resistant ceramic porcelain. They won't turn yellow or brown as quickly as natural teeth might. Still, they can and do discolor in some situations.
For starters, implants may stain if their glazing comes undone, which happens if they're mistreated. To recover your bright smile, you'd then need professional treatment in the form of polishing, re-glazing, or even replacement.
Implant glazing can suffer damage from:
Frequently eating acidic foods (citrus fruits, tomatoes, certain dairy products, etc.)
Abrasive teeth cleaners
Chewing on hard items (i.e., ice, hard candy, fingernails, pen caps)
Tips for Avoiding Implant Discoloration
Fortunately, keeping implants shiny and white isn't too hard. It's just a matter of practicing good oral care habits, like:
Not Smoking or Using Tobacco Products
Tobacco has tar and nicotine that discolor pearly whites with a yellow or brownish look. That includes your new replacement teeth! Plus, these products can cause your implant to fail sooner than necessary.
Avoiding Foods and Drinks with Tannins
Implants can get unsightly stains from foods and drinks high in tannins. Coffee, berries, red wine, and tea are noteworthy examples of such products. Therefore, try to avoid having these items as best you can!
Brushing with Non-Abrasive Toothpaste
As mentioned earlier, abrasive materials can cause implant damage. One such thing would be whitening toothpaste.
Special whitening toothpastes have abrasive ingredients that can wear away implants and tooth enamel. Using them often leads to stains or discoloration.
If necessary, your general dentist can recommend non-abrasive toothpaste or gels for you to use. These would clean the surface of your teeth gently.
Though dental implants are great at replacing missing teeth, they can still discolor. Take proper care of them so they'll stay beautiful for years!
About the Practice
Nu Dental – Brick is based in Brick Township, NJ. As led by Dr. Admasu Gizachew, it offers patients a wide variety of up-to-date services using the latest technology. That said, its staff provides preventive, cosmetic, and restorative dentistry, as well as orthodontic treatments. When necessary, they can also perform emergency services. For more information or to book an appointment, you can reach them at their website or by phone at (732)-475-7535.