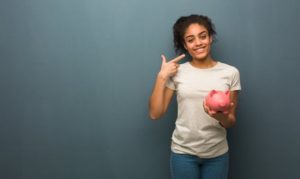 Your smile is one of the first things that people notice about you; so, if you're plagued by any sort of dental issue that's compromising your pearly whites, you might be wondering what your treatment options are. You might also be wondering if any of these options are going to break the bank; but fortunately, there are several budget-friendly ways of achieving your smile goals! Keep reading as your dentist reviews some of the many ways you can improve your smile on a budget.
Affordable Ways to Enhance Your Smile
Before you receive any type of cosmetic dental work, regardless of the cost, you'll need to speak with your dentist about your desired smile goals. Depending on your needs, your dentist might suggest one of several different options, all of which are quite affordable:
Teeth whitening – This purely-cosmetic treatment is ideal for patients who wish to brighten their smiles on a budget. Even though professional whitening usually costs more than store-bought whitening products, these cheaper options can't beat the results that your dentist can provide.
Cosmetic bonding – Perfect for minor flaws in teeth like chips or cracks, the cosmetic bonding process allows your dentist to use a composite resin to mask any noticeable abnormalities. It's quite cost-effective and can be used to address one or multiple teeth.
Dental crowns – Even though this treatment is mainly used to restore and protect severely compromised teeth, it can also improve their appearance. And since it's a restorative procedure, it's often covered by most dental insurance plans!
It's worth mentioning that even though these treatments are fully capable of enhancing your smile at an affordable price, they aren't intended to last forever. Depending on your commitment to oral hygiene, as well as the treatment that was carried out, you might have to have your results touched up in the future, which can add to the total overall cost.
How to Get Help with Dental Bills
Everybody deserves a beautiful smile—and luckily, there are several options to help you or a loved one find financial assistance for dental work. Here are a few options to consider if you're on a budget:
Dental schools – You can check an accredited list of dental schools to find one near you; in these instances, the dental work is performed by a student under the supervision of a licensed dentist. However, it's often a fraction of the usual cost of care!
Dental grants – Grants can often partially cover the cost of expensive treatments; however, as life-changing as these grants can be, many come with a list of qualifications that must be met, as well as waiting periods.
Financing – Many practices offer financing alternatives to ease the burden of receiving treatment, including options such as in-house dental plans and third-party financing through CareCredit.
About the Practice
The team at Nu Dental Brick is thrilled to serve patients and families in the Brick Township, NJ community under the leadership of Dr. Admasu Gizachew and Dr. Noah Mustafa. Their practice offers a wide range of preventive, cosmetic, and restorative dentistry services, as well as in-house membership plan that can help you save on all kinds of dental treatments. If you have any questions for the practice or would like to arrange a visit, feel free to reach out online or over the phone: (732) 475-7535.