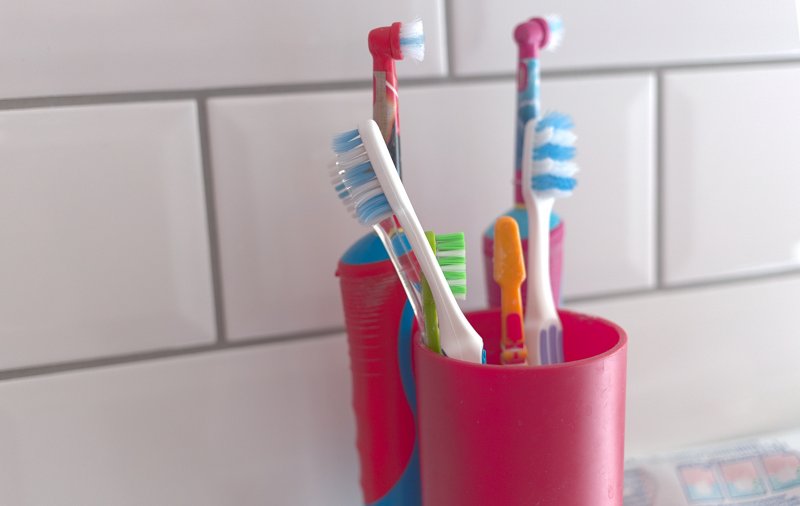 When it comes to oral health, most of us focus on brushing, flossing, and visiting the dentist regularly. However, there are often overlooked items in our homes that can harbor harmful bacteria and impact the health of our smiles. From toothbrush holders to bathroom towels, these seemingly innocuous objects can be surprisingly dirty. Read on to learn which five items require regular cleaning to promote a healthier smile and maintain overall oral hygiene.
Toothbrush Holder
The toothbrush holder is often neglected when it comes to cleaning routines. Yet, it is a breeding ground for bacteria and germs that can easily transfer to your toothbrush, putting your oral health at risk. Moist environments (like a toothbrush holder) create the perfect conditions for the growth of harmful microorganisms. To keep your toothbrush and smile safe, you should make it a habit to clean the holder at least once a week. Use hot, soapy water and a brush to scrub away any residue and ensure your toothbrush remains bacteria-free.
Bathroom Towels
After brushing and flossing, you dry your mouth with a bathroom towel. However, these towels are often damp and used by multiple people, making them a potential breeding ground for bacteria. Be sure to change your bathroom towels regularly and wash them with hot water and detergent to eliminate any lingering germs. Drying your mouth with a clean towel ensures that you're not reintroducing bacteria after your oral care routine.
Kitchen Sponge
Did you know that your seemingly innocent kitchen sponge harbors hundreds of millions of harmful bacteria? About 75% of kitchen sponges are infested with coliform bacteria! Make sure you replace these sponges regularly to avoid letting these germs thrive in the very place you prepare and eat your meals.
Your Cell Phone
Have you ever stopped to think about how often you touch your face throughout the day? Chances are, it's more frequent than you'd care to admit. Moreover, in between these instances, you likely find yourself glued to your cell phone, staying connected with others and managing your bustling life. But here's a shocking fact: studies reveal that one in six cell phones are contaminated with fecal matter. The thought alone can be unsettling. Fortunately, taking a moment to clean your phone regularly with a disinfectant wipe can help safeguard your health and prevent potential illnesses.
Cutting Board
Your trusty cutting board might not be in its most pristine condition. Little do you realize, it could be a hotspot for breeding bacteria. You need to prioritize regular and thorough cleaning of this essential kitchen surface. Frequent scrubbing is key to keeping it germ-free. If your cutting board is dishwasher-safe, consider using this option for an even more effective clean!
About the Practice
At NU Dental Brice, we want every patient to sport a beautiful, healthy, and fully functioning smile. We value patient education, which is why we're always happy to take the time to share oral health tips for better overall well-being. To learn more about the dirtiest items in your house, visit our website or call (732) 475-7535.