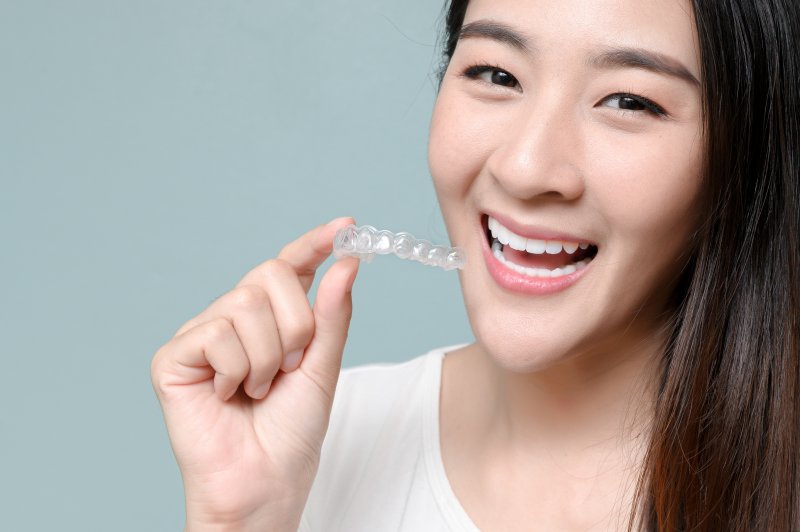 Orthodontic treatment is used to conjure images of a mouth full of brackets and wires for many people. However, the introduction of Invisalign in 1997 transformed orthodontics. These clear, removable aligner trays are not only visually appealing but also offer numerous advantages over traditional metal braces. Discover the top four benefits of Invisalign as you read on.
#1: Eat Freely
Traditional braces come with a long list of foods to avoid until your treatment is complete. This includes bagels, licorice, popcorn, chips, caramel, gum, nuts, hard candies, corn on the cob, apples, carrots, and taffy.
Fortunately, Invisalign offers the freedom to enjoy these and other treats whenever you're not wearing your aligners. Simply remember to take them out before eating or drinking anything other than water to prevent staining, warping, or damage.
#2: Socialize Without Worry
While traditional braces effectively straighten teeth and correct bite issues, they can be bulky and challenging to clean. Foods like spinach, lettuce, and broccoli tend to get stuck in them, creating potential discomfort in social situations. Invisalign, being removable, allows you to easily brush and floss your teeth after meals, ensuring you can socialize, talk, and laugh without any embarrassment!
#3: Little to No Discomfort or Irritation
Metal braces often have sharp wires and brackets that can scratch or irritate your tongue, cheeks, and gums. While it's common to experience some mild discomfort and soreness each time you switch to a new set of aligner trays with Invisalign, many patients find this preferable to the discomfort caused by traditional braces.
This sensation arises from the continuous, gentle pressure used to move your teeth into the correct position. Given that Invisalign is sleek, comfortable, and simple to clean, a few days of mild discomfort are a small price to pay for the beautiful results it delivers.
#4: Smile with Confidence
Invisalign and traditional braces both employ pressure to shift your teeth into a better alignment, but only clear aligners do so discreetly. The noticeable appearance of metal braces often leaves wearers feeling self-conscious about their smiles. In contrast, with Invisalign, many people won't even notice that you're wearing an orthodontic appliance!
Invisalign offers numerous advantages beyond straightening your teeth. If you're eager to enhance your smile, reach out to your orthodontist and embark on your path to a more self-assured grin!
About the Practice
At Nu Dental Brick, we are dedicated to providing exceptional dental care tailored to patients of all age groups. Our comprehensive range of services includes specialized treatments like Invisalign, aimed at enhancing your smile and boosting your confidence. If you're less than satisfied with your smile, our high-quality Invisalign aligner trays can address various concerns, from closing gaps to correcting alignment issues. If you want to schedule an appointment or to learn more about Invisalign, visit Nu Dental Brick's office at (732) 475-7535 or visit their website.